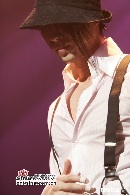 Amazing grace        
How sweet the sound
That saved a wretch like me
I once was lost but now I'm found
Was blind but now I see 
♪Amazing grace・・・ How sweet the sound・・・♪
When you started to sing this song in your solo concert, I was so moved with pleasure and awe at the power of God.
I wonder how many times and by how many singers I have heard this song.
Many singers sing this song as a famous gospel or folk song.
But your 'Amazing Grace' is an expression of your faith to God.
At the concerts, when you prayed between the verses, it was a different prayer each time.
As a fellow Christian, I think remembering that your strength comes from God and turning to God when you make big decisions about your life is very important.
And I realized that as a fan who shares your faith, the best way I can show my support is to send my prayers.
So ・・・ I decided to start this blog.