I am a great fan of VanNess.
Like VanNess, I am a Christian.
So this blog is to show support for VanNess through my prayers and faith.
This blog is closed to comments.
If you would like to say sth to me, pls send a mail here.
marikomama314@
hotmail.co.jp

カテゴリ
以前の記事
その他のジャンル
ファン
記事ランキング
ブログジャンル
画像一覧
2007年 06月 25日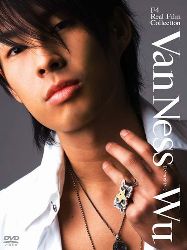 Your private video was delivered. I had been looking forward to seeing the scenes taken in Americamura in Osaka. That was a place that would fit you and you would enjoy. I often go to the boutique selling the Ed Hardy brand and to the movie theater 'Cinemart' that mainly shows Asian movies in that area.
On the day you were filming in Americamura, my daughter and I went to that theater to see your movie 'Dragon Squad'. Seeing you in the video with the umbrella made me remember that you had to film in the heavy rain on that day.
You also filmed at the Sembayashi Shopping Street on the same day, didn't you? I was very surprised as that is the street I used to go to when I was small. I lived near that shopping street. Once, when I was two years old, I got lost in a very large crowd on New Year's eve. And I was helped by a kind old lady. So this place has always held a special memory for me. It has changed some, and it seems smaller than when I was a child, but it still seems to have the same atmosphere.
2007年 06月 15日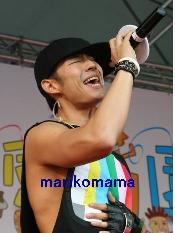 At the end of April, when I listened to your new CD for the first time, I noticed you recited "The Lord's prayer" before the song'If'.Because I thought you were singing about God in this song, I asked my friend Tomo to translate it into Japanese.
Her translation made the song about a man's feeling toward his lover. Though I believed her translation was correct, I wondered about the real meaning of the lyrics. I thought reciting 'The Lord's Prayer' didn't make sense if it's only a song to a lover. I put the word 'Lord' instead of 'you' in the lyrics, so the song seems to praise God and give him thanks.
A few days later, I read the article in which you were talking about this song. You said in the interview that this song was written as a heartfelt expression of your graditude to God for watching over you and leading you in the direction you have taken since becoming an entertainer.
I was really happy to learn your thoughts and to know that this song was born of your faith in God. My spirit was full of joy to see that the foundation of your base was your firm faith in God. In this sense, 'If' is my favorite song now.
After realizing the true meaning, Tomo translated the lyrics again following this meaning. The new translation was very beautiful and deep. I really appriciate her effort. But unfortunately the translation for the Japanese editoin does not express the real meaning. I would like to recomend to the people who listen to this CD to think about your real meaning while listening to this song.
I've never heard you sing this song live. I really hope you will sing this song at the upcoming concert in Japan.

2007年 06月 08日
Finally I got the Japanese Version of V.DUBB.
I had to wait for a week after it went on sale.
As I had been waiting to hear your singing 'Wanna Love Somebody' in Japanese, I almost bought one at the CD shop. But I warned myself to remember I already had many CDs of the Taiwan and HongKong versions.

One of my friends Tomo translated the songs for the fans who could not wait for the Japanese edition. I was surprised that her translation was so bueatiful! Oh, she is great! For some of the songs, I feel her translation is better than the professional one. It's because as a fan, her understanding of you and what you are really trying to express through those songs is perhaps deeper than a professional translator.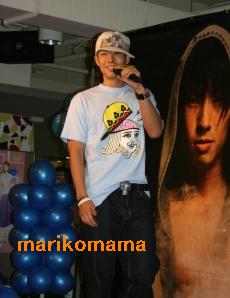 At first, the three songs I liked best were 'Let Go' 'Wanna Love Somebody' 'Friday night'. And gradually as I listened more, 'My Kingdom' 'Just One Dance' and 'If' also came to be among my favorites. And now, after understanding the meaning of all the songs, I can enjoy most of the songs in the CD.
I'll start learnitg the words for singing along at the concert.
2007年 06月 05日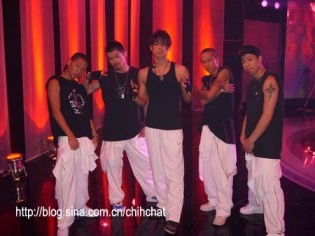 Last Friday, around midnight, I could see you on TV on an NHK music program. Your performance was professional and the style was very good.
Since NHK programs are broadcast to the whole country, I think many people who may not have known about you before had the chance to see you for the first time. And that performance will leave them with a very good impression.
Also you appeared on the show 「笑っていいとも」 recently. This show is very popular and you were enjoyable to watch and it showed a different side of you.
These two shows were good chances for you to become more well known in Japan.
2007年 06月 02日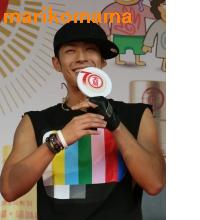 I've been listening to your CD everyday since it was released. Even now I can't get the Japanese edition because I reserved it along with your private DVD which will be released on June 8.

On the Japanese edition, there is one song you are singing in Japanese, so I am eagerly looking forward to hearing that song in Japanese, not just looking at a translation.